Birdcage 33 Boutique Hotel: Pool Party Cocktails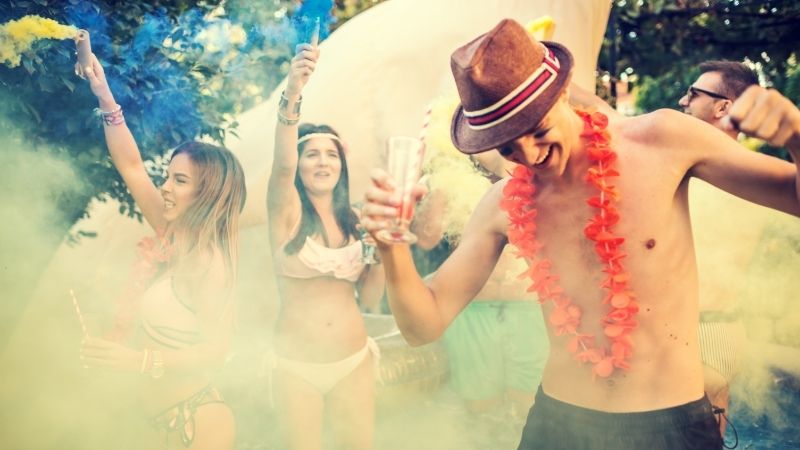 A pool party is the perfect combination of relaxing in the afternoon sun and the energy of a party. Time for  pool party cocktails. Your party becomes an unforgettable event at the Birdcage 33 Hotel.  
So what is a pool party? It is a celebration of carefree summer, a place where the beauty of the season blends with the exciting atmosphere of a party. It is a moment of pure relaxation, an opportunity to forget everyday worries and enjoy the beauty of being together.    
The goal is to create a special atmosphere that makes guests feel comfortable, but also to surprise them with unique and unexpected details. Of course, cocktails are the stars of any pool party. So let's discover the best pool party cocktails at the Birdcage 33 Hotel. 
Pool Party Cocktails
Choosing a cocktail is a fundamental step that guarantees the success of any pool party. Here are the most popular pool party cocktails for a pool party at the Birdcage 33 Boutique Hotel! 
Mojito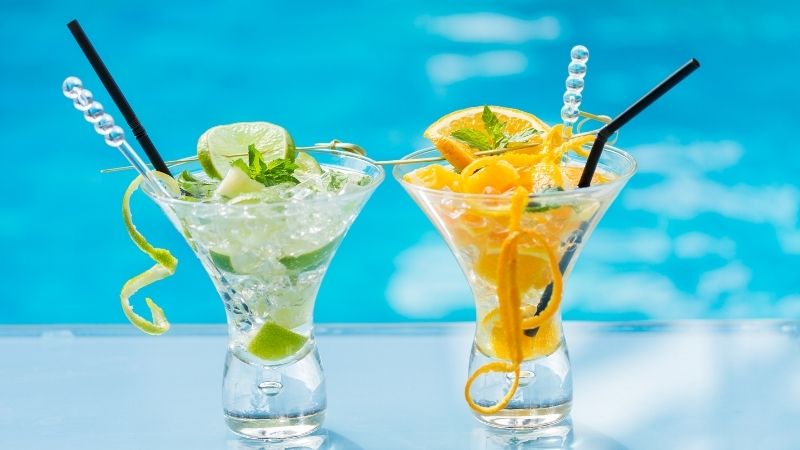 In African, "mojo" means magic. Mojito comes from this word.  A little white rum, some mint leaves, brown sugar, lime, soda water and ice. Bartender action and we serve your Mojito! 
Margarita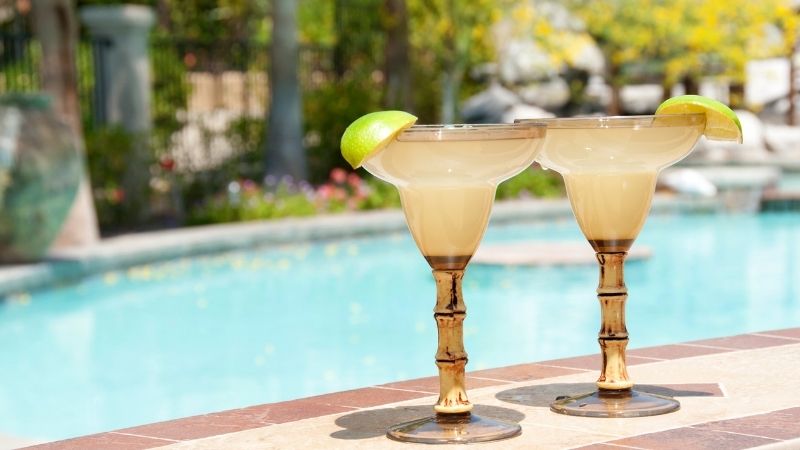 One of the most remarkable: The Margarita.  Once chilled, we wet half the rim of the glass with a slice of lemon. Then dip it in salt and shake it to remove the excess. At this point, we squeeze a lime and strain. Add the triple sec and tequila. Finally, we shake and pour into a glass. 
3 Non-Alcoholic Pool Party Cocktails
When the party is over, your guests probably need to go home. Offering them a non-alcoholic alternative is always welcome! Here are a few ideas to surprise your friends with colorful, refreshing, and completely non-alcoholic cocktails.  
Virgin Colada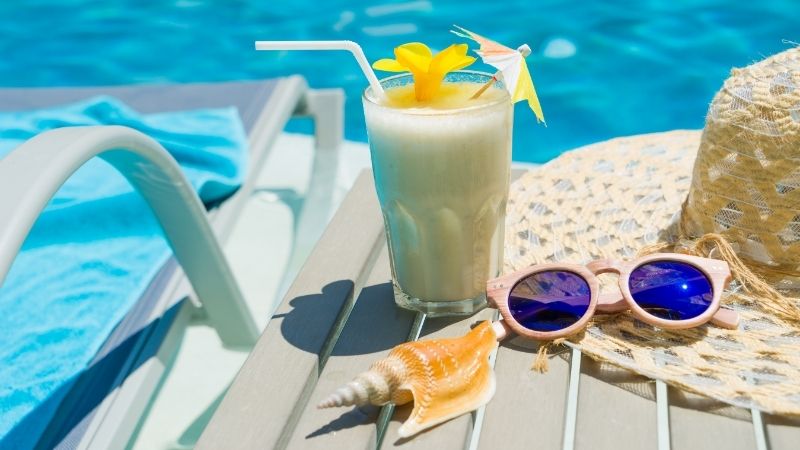 A much sought-after summer classic is the Virgin Colada. All you need are two ingredients: pineapple juice and coconut syrup. Pour coconut syrup (5%) and pineapple juice (95%) into a glass with ice. After shaking, garnish with pineapple slices if desired. Fresh and delicious! 
Fruit Tonic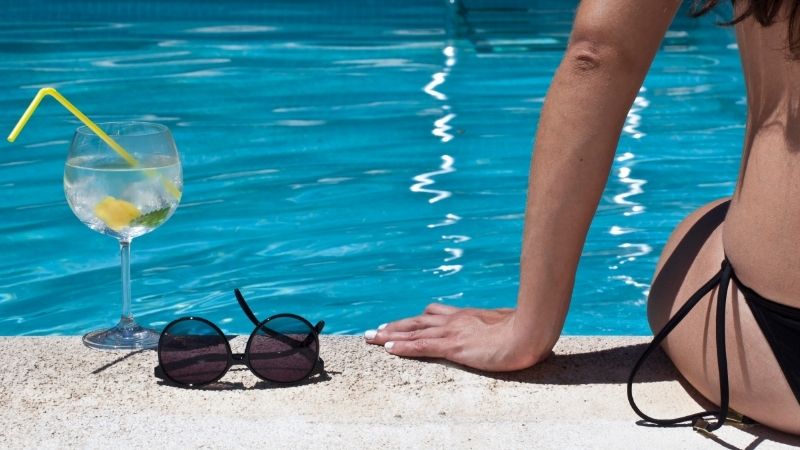 The name itself says it all: The main element in Fruit Tonic is the fruit. We use 80% orange juice and 20% lemon juice. We pour the two juices into a glass with ice and add the tonic water. Stir for a few seconds and serve with garnish. A thirst-quenching bomb! 
Red Sunset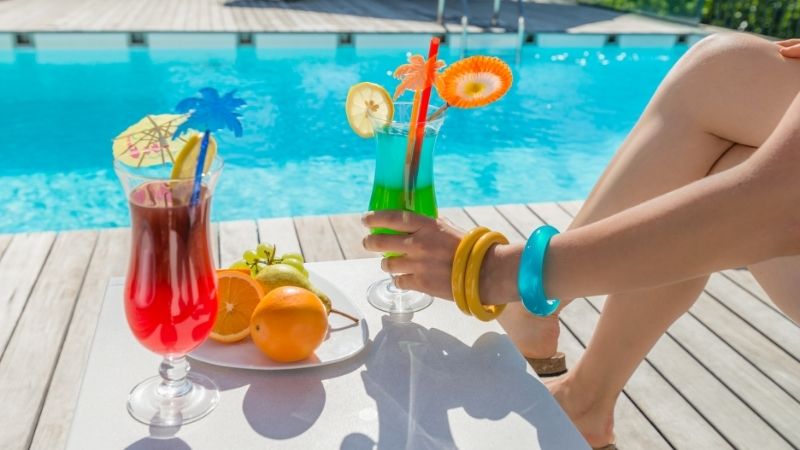 Fresh and perfect for enjoying at sunset: Red Sunset has a fruity taste that combines the tart flavor of pineapple and orange juice with the sweet taste of peach. We combine all three juices in one glass. Finally, we add a mint leaf for a fresh touch. It tastes even better if you try it in water!   
Birdcage 33 Boutique Hotel Pool Party
When it comes to setting up a pool party, we think of the venue as an oasis where every element contributes to creating the right atmosphere to transport your guests to a dreamlike reality. Here are some ideas for your pool party that will make the event an unforgettable experience:   
Colorful lanterns: Hang lanterns from trees or along the sides of the pool to add color and light.
Inflatable mattresses and beds: Offer your guests a comfortable relaxation area that floats on the water.

 

Tiki torches: If you plan to extend the party late into the evening, tiki torches will add a warm glow and tropical feel to the room.
Flowers: Flowers are great for cocktails, around the pool and in the decor to add a natural and romantic touch.
Photo Booth Corner: Create a corner full of fun accessories to create unforgettable photo memories.
Lounge Area: A relaxation area with chairs and tables by the pool for those who just want to relax and enjoy the party.

 
Birdcage 33 Boutique Hotel Poolside, Music, Appetizers
Perfect, the location and the cocktails are ready. Now it's time to think about the music for your pool party. Music is the element that brings the party to life, setting the rhythm for laughter and conversation. Choose an upbeat, yet relaxing playlist that can serve as a backdrop for water splashes and celebratory toasts.  
But what would a party be without some snacks? Prepare a variety of light and tasty snacks. To cool off on the hottest days, you can focus on mini sandwiches, veggie chips, fruit skewers, or even a variety of homemade ice creams.     
With the right ingredients, a good dose of creativity and our pool cocktail party guide, you're ready to get started. So turn on the music, make the cocktails, invite your friends, and enjoy the summer. Happy pool party!