Bodrum is a popular vacation spot for its beautiful beaches, clear blue waters, and vibrant nightlife. When it comes to accommodations, there are plenty of options to choose from, including luxurious resorts and budget-friendly hotels. However, for those who seek a more intimate and personalized experience, boutique hotels are the way to go. One such hotel that stands out in Bodrum is the Birdcage 33.
The Birdcage 33 is a boutique hotel and restaurant located in the heart of Bodrum. What sets it apart from other hotels in the area is its unique charm, exceptional service, and attention to detail. From the moment you step into the hotel, you are greeted with warm hospitality and a stylish ambiance that makes you feel at home.
The hotel offers seven individually designed rooms, each with its own character and charm. The rooms are spacious, well-appointed, and equipped with modern amenities such as air conditioning, minibar, and high-speed internet. Some of the rooms even offer breathtaking views of the Aegean Sea.
The restaurant at Birdcage 33 is equally impressive. It offers a Mediterranean-inspired menu that showcases the best of local ingredients and flavors. The dishes are beautifully presented, and the service is impeccable. The restaurant's terrace is the perfect place to enjoy a leisurely meal while taking in the stunning views of Bodrum.
The hotel's location is also a big plus. It is situated just a short walk away from Bodrum Castle, the Marina, and other local attractions. The hotel also offers a range of activities such as yoga classes, wine tasting, and cooking classes, making it an ideal place to unwind and indulge in some self-care.
In summary, the Birdcage 33 offers a unique and unforgettable experience for travelers looking for a more intimate and personalized stay in Bodrum. Its exceptional service, stylish ambiance, and prime location make it the perfect choice for those who want to experience the best of Bodrum.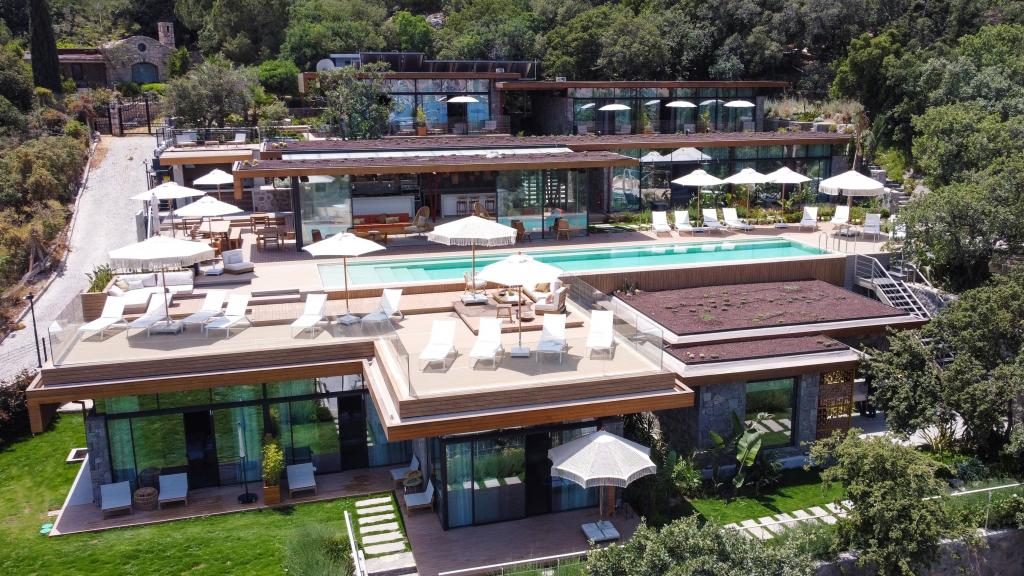 Why Birdcage 33 is the Ultimate Bodrum Boutique Hotel and Restaurant
Birdcage 33 is more than just a boutique hotel in Bodrum. It is an experience that leaves guests feeling rejuvenated, refreshed, and pampered. With its prime location in the heart of Bodrum and its exceptional services, it's no wonder that Birdcage 33 has become the ultimate destination for travelers seeking luxury and comfort.
Luxurious Accommodations
The hotel boasts 12 luxurious rooms and suites, each decorated with unique design and flair. The rooms are equipped with modern amenities, including flat-screen TVs, minibars, and complimentary Wi-Fi, ensuring that guests have everything they need for a comfortable stay. The rooms also feature stunning views of Bodrum's hills and the Aegean Sea, adding to the overall luxurious experience.
Fine Dining Experience
Birdcage 33's restaurant is one of the most renowned in Bodrum, offering a fine dining experience that's hard to match. The restaurant's menu is carefully curated, featuring a fusion of Turkish and international cuisines that are sure to satisfy every taste bud. The restaurant's chic ambiance and breathtaking views of Bodrum's coastline make it the perfect setting for a romantic dinner or a celebratory meal with family and friends.
Exceptional Services
At Birdcage 33, guests are treated like royalty, with exceptional services that cater to their every need. The hotel's staff is friendly and attentive, always going the extra mile to ensure that guests have a comfortable and memorable stay. From arranging airport transfers to recommending the best places to visit in Bodrum, the hotel's staff is always on hand to assist guests with whatever they need.
Conclusion
Overall, Birdcage 33 is the ultimate Bodrum boutique hotel and restaurant. With its luxurious accommodations, fine dining experience, and exceptional services, it's no wonder that the hotel has become the top choice for travelers visiting Bodrum. Whether you're looking for a romantic getaway or a family vacation, Birdcage 33 is the perfect destination.