What are Morel Mushrooms? Risotto with Morel Mushrooms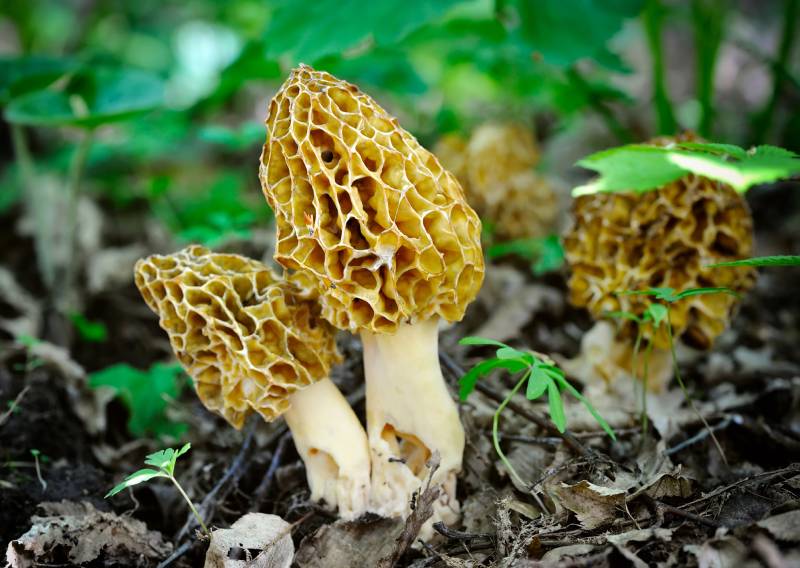 Morels are mushrooms that can be found in the forest during the period when the spring days begin to be warm and temperate. The main characteristic of the morel is its earthy odour, which, apart from the peculiar shape, recalls absolutely all woody notes. Although not often found on our tables, morels have a unique flavour. Morel mushrooms is good with meat main courses. It is suitable for seasoning pasta or risotto. It is also a vegetarian or vegan dish with a unique and lasting flavour.  
Benefits of Morel Mushrooms
Morel mushrooms are a low-calorie food with many nutritional properties. Each 100 grams contains only 31 kcal. Morel mushrooms also contain many vitamins, such as vitamin B2, vitamin B1, which provides an important accumulation of energy in the body, and pantothenic acid, which helps in moments of intense physical and mental fatigue. Mineral salts found in this mushroom include sodium, iron, potassium and phosphorus. 
Where can You Find Morel Mushroom?
Morel mushrooms grow in the natural environment around Muğla between March and May.  Between these months you can join the mushroom hunt among the activities of Birdcage33 Hotel. You can pick your own mushrooms accompanied by experienced guides. Other months of the year you may find different types of mushrooms. However, at Birdcage33 Hotel you can taste lamb belly mushroom risotto all year round.  
Birdcage33 Boutique Hotel Risotto with Morel Mushrooms  
Risotto with morel mushrooms is an excellent dish on the menu of the Birdcage Hotel, prepared entirely with local produce. We strongly recommend that you try it when you visit the hotel. In the meantime, if you would like to make your own lamb belly mushroom risotto, here is the recipe. 
Morel Mushroom Risotto Recipe
Ingredients 
320 gr. rice (Carnaroli rice)

 

1/2 onion

 

2 tbsp extra virgin olive oil

 

1/2 cup of dry white wine

 

1 l. meat broth

 

30 gr. grated parmesan

 

A piece of butter

200 gr. morel mushrooms

 

One garlic clove

 
Preparation
Finely chop the onion and sauté in the oil over a low heat. Add the rice before it begins to brown and cook for about a minute. Add the white wine and continue to cook the rice after it has evaporated, adding the boiling broth a little at a time, stirring carefully. Separately, sauté the sliced mushrooms with the oil and garlic. When the rice is cooked, add the mushrooms, turn off the heat, add the butter and parmesan and stir. Serve each portion garnished with chives.
 You can learn about morels by attending the event at the Birdcage33 Hotel. 
Other articles you may be interested in: