Discover Luxury and Tranquility at Birdcage 33 Boutique Hotel in Bodrum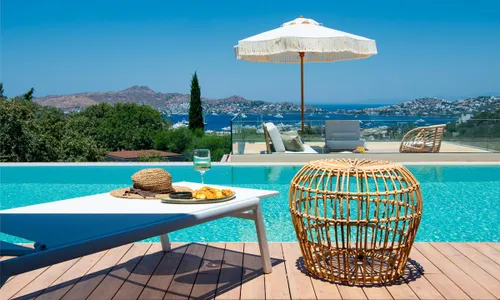 Unforgettable experience for travelers seeking a combination of luxury, comfort, and tranquility. Situated in a prime location, this charming hotel showcases the best of Bodrum's natural beauty and provides a haven for relaxation and rejuvenation.
Step into a World of Elegance and Style
As you enter Birdcage 33, you'll be greeted by a warm and inviting atmosphere that reflects the hotel's commitment to excellence. The elegant and stylish interior design creates a sense of sophistication, while the attention to detail ensures every guest feels pampered and indulged. From the luxurious furnishings to the carefully curated artwork, no expense has been spared to create a truly remarkable ambiance.
Luxurious Accommodations for Unparalleled Comfort
Birdcage 33 offers a range of luxurious accommodations that cater to the diverse needs of its guests. Whether you're a solo traveler, a couple seeking a romantic getaway, or a family on vacation, you'll find the perfect room or suite to suit your preferences. Each accommodation is thoughtfully designed with comfort in mind, featuring plush bedding, modern amenities, and stunning views of the surrounding landscape.
Indulge in Exquisite Dining Experiences
At Birdcage 33, culinary excellence is taken to new heights. The hotel boasts a renowned restaurant that offers a tantalizing array of gourmet dishes, prepared by a team of talented chefs. Using only the finest locally sourced ingredients, each dish is a work of art that delights the senses. Whether you're savoring the flavors of traditional Turkish cuisine or exploring international delicacies, every meal is a journey of culinary discovery.
Relaxation and Rejuvenation in a Serene Environment
Birdcage 33 understands the importance of relaxation and offers a range of amenities to ensure guests can unwind and rejuvenate. Take a dip in the sparkling outdoor pool, surrounded by lush greenery and comfortable sun loungers. Indulge in a soothing spa treatment that will melt away your stress and leave you feeling refreshed. The hotel's serene environment provides the perfect backdrop for a peaceful escape from the hustle and bustle of everyday life.
Explore the Wonders of Bodrum
While Birdcage 33 offers a serene sanctuary, it also serves as a gateway to the wonders of Bodrum. The hotel's knowledgeable staff can assist you in planning excursions to the area's top attractions, including the historic Bodrum Castle, the vibrant Bodrum Marina, and the stunning beaches that line the coast. Embark on a boat tour to discover hidden coves and secluded bays, or immerse yourself in the vibrant nightlife that Bodrum is famous for.
Experience Unforgettable Moments at Birdcage 33
Whether you're seeking a luxurious getaway, a romantic retreat, or a memorable family vacation, Birdcage 33 Boutique Hotel in Bodrum is the perfect choice. From its elegant accommodations and exquisite dining experiences to its serene surroundings and warm hospitality, every moment spent at Birdcage 33 is bound to create lasting memories. Book your stay today and embark on a journey of luxury, tranquility, and unforgettable experiences in the heart of Bodrum.