Wedding Menu, Everything You Need to Know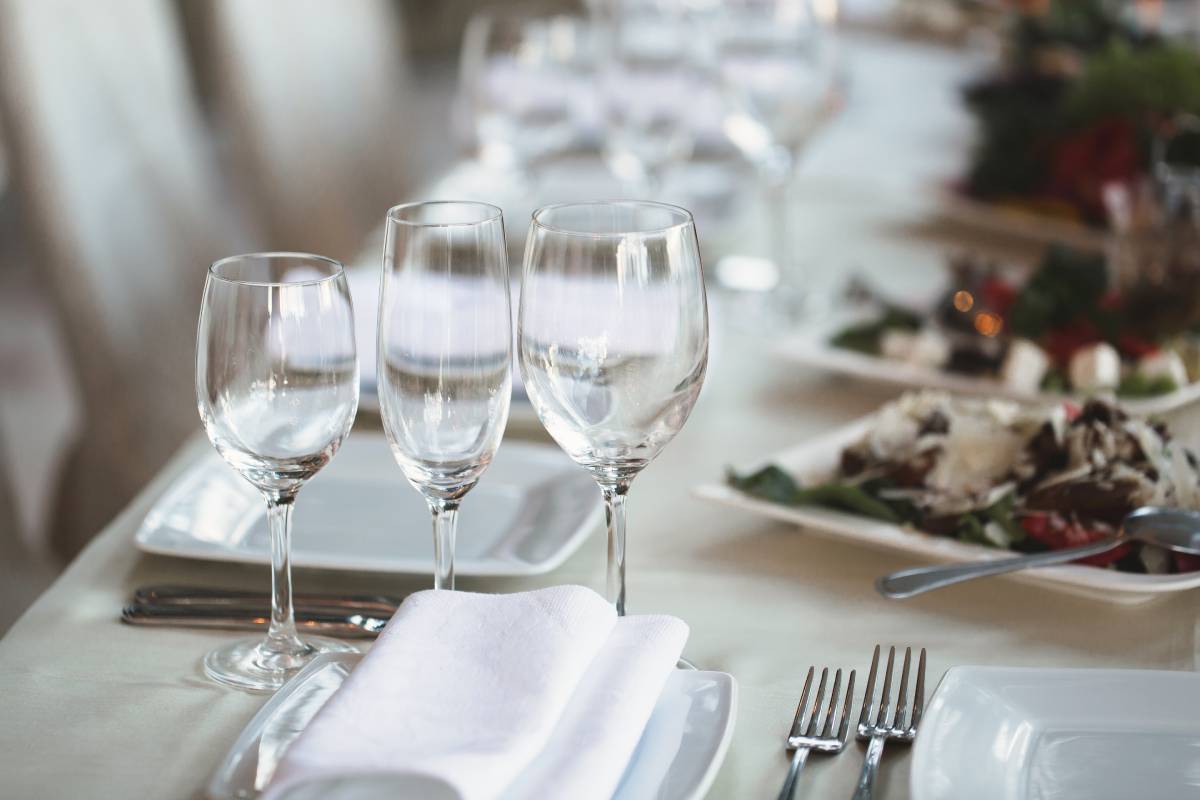 The Wedding reception is one of the most anticipated moments for guests, who are able to remember the tastes and feelings even years and years later. Because you know, no mistakes are allowed on the wedding menu!
Plate and fork in hand, every one of your guests will be ready to savor all the delicacies you and your groom choose for your banquet. Wedding menu, the secrets of the perfect banquet
Before thinking about the details of the setup and decorations, you need to understand how to create a good wedding menu that will more than satisfy the taste buds of every eater.
No stress! Here are our invaluable tips on how to choose a wedding menu.
Choosing a Wedding Menu Style and Serving Methods
Choosing the menu style for your wedding can be an important part of making your special day truly unique and memorable. When choosing the perfect menu, you will need to consider your tastes and interests and those of your partner. You can choose from several options, such as formal or buffet service.
When it comes to serving wedding guests, every detail counts. From the type of service you choose (buffet, family or plated) to the ability to accommodate any dietary restrictions, there are many things to consider when planning a memorable experience.
Buffet Wedding Style
A buffet is often the preferred option for receptions as it allows guests to move quickly between the lines and choose from a variety of dishes.
Family Wedding Style
Family style offers a more intimate atmosphere and larger portions than a buffet. However, when planning with this style in mind, it is important to consider whether there is enough space at each table for large meals and whether there is enough staff at each table to properly serve individual portions.
Plate Service
Plate service offers couples a personalized touch: waiters serve food to each table.
Our professional chefs are here to help couples decide on the best method for their wedding menu and ensure that all details are taken care of so they can relax and enjoy their special day!
Our hotel has experienced chefs who can create customized menus based on the theme or cuisine desired by the couple. This takes into account everyone's taste, whether it is traditional Turkish food or international cuisine. Our hotel also offers you flexibility in your choice of service methods, allowing you to combine formal dining services with creative buffet stations and even interactive bars that will encourage conversation among friends and family throughout the evening.
Whatever menu style you choose, a personalized meal will leave a lasting impression on all your guests and draw attention to the incredible wedding reception our hotel offers!
Creating a Balanced Wedding Menu
When planning the perfect wedding menu, it is important to create a balanced meal. This means considering all the dishes you want to serve, such as appetizers, soups and salads, main courses, and desserts. It is important to choose flavors and textures that complement each other and present the meal attractively.
When deciding what foods to include on your menu, consider those that are seasonal and locally sourced.
Choosing The Perfect Drinks 
When planning the perfect wedding menu, it is important to consider the season and weather to choose the perfect drinks. Couples should also think about what flavors go well with the food being served to create a balanced meal. In general, lighter wines are better with light dishes such as salads, while heavier wines work better with richer dishes such as beef or lamb. In addition, couples can experiment with flavored cocktails, such as mojitos or margaritas, to complement their chosen cuisine.
Although it is appropriate to offer alcoholic options, couples should also remember to provide a variety of nonalcoholic options for those who do not drink. Try offering juices, sparkling water, and herbal teas in addition to sodas and other soft drinks. This will ensure that everyone can enjoy a refreshing drink on your special day.
Bodrum Birdcage33 Wedding Menu
At our hotel, we know that couples want to create the perfect wedding menu for their special day. That's why we offer a variety of cuisines and menu options. From traditional dishes to modern interpretations of classic favorites, there is something for everyone. Our experienced chefs are on hand to help couples create customized menus that exceed their expectations. We also offer a complimentary tasting menu so couples can sample dishes before committing.
Our beverage options are as varied as our food choices. We have alcoholic and non-alcoholic beverages for all tastes; from beers and wines to more specialty drinks such as craft cocktails or mocktails, we have something for everyone. With the help of our team of experts, couples can be sure to make the right decisions when it comes to beverages for their wedding reception.
We know how important it is for every detail of a wedding to be perfect, from the cake to the decorations to the choice of food and drinks. That's why at our hotel we provide couples with everything they need to make their wedding day run smoothly!